Exploring The Mayflower and The Wampanoag Tribe: Class 3's Visit to The Box, Plymouth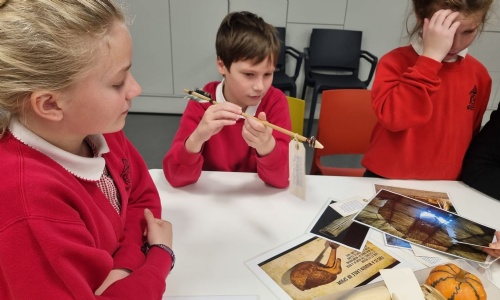 Last week, Class 3 had an unforgettable educational experience at The Box, Plymouth. The students delved into the history of The Mayflower, the famous ship that carried the Pilgrims from Plymouth, England to what is now known as America in 1620.
The trip gave the children a chance to explore a range of artefacts from the time period, immersing themselves in the fascinating history of the Pilgrims and their journey. From interactive displays to informative exhibits, the students were able to learn about the challenges that the Pilgrims faced on their voyage and the impact they had on American history.
But the experience did not stop there. The children also learned about the Wampanoag tribe, the Native American people who welcomed the Pilgrims upon their arrival. The students had the opportunity to study artefacts from the tribe and gain an understanding of their culture and way of life.
As always, the students from Landulph Primary School represented their school brilliantly. Their impeccable behavior was a credit to their school, and they made the most out of their visit to The Box.
But the adventure does not stop there for Class 3. The next trip on the horizon is a visit to Bude. While the specific details of their upcoming excursion are not yet known, one thing is certain: the students will approach it with the same enthusiasm and eagerness to learn that they showed on their visit to The Box.