Class 3 Pig Heart Dissection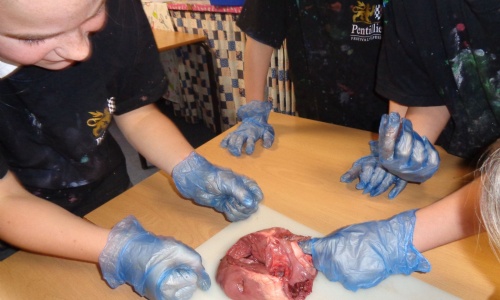 In their Science lesson, Class 3 were busy learning all about the heart, and it's role within the circulatory system. In order to do this, we had to call the bravest person we know who could help us to learn all about this vital organ in the most hands-on way imaginable - our Debbie!!
To cement our understanding of how the heart works, we dissected real-life pig hearts, which also links to our class text 'Pig Heart Boy' by Malorie Blackman (honestly, it's almost like someone had planned this).
When exploring the heart, we were able to identify the 4 main chambers plus the main arteries and valves. We also learnt the difference between veins and arteries as well as oxygenated and deoxygenated blood.
And as if this wasn't enough, Debbie also brought in some pig eyes and brains for us to examine too! It was a truly gruesome yet memorable learning experience for all.
Onto lungs next...